Main content starts here, tab to start navigating
Bulldog
Brown Ale 6% ABV, 22 IBUs
This beer is named after the mascot at Mahomet-Seymour High School, our hometown team. We are giving a shout-out to all the alumni who ventured through the halls and poured their hearts out on the many different playing fields in search of victory. This beer goes out to the old-timers, who had a good run in their day, and always have some "great" story of grandeur awaiting in case of any dull moment in the conversation. Bulldog Brown Ale is a smooth, easy drinking beer with multiple flavors. There are hints of caramel, chocolate, and toasted bread, with a mild hop aroma. So take a hint from the JT Walker's Bulldog, sit back, relax, take a load off and enjoy a great beer while you reminisce of the days past.
Orange & Blue
American Wheat Ale 5% ABV, 10 IBUs
The colors orange and blue are synonymous with this area, our local high school and the University of Illinois – Urbana-Champaign. Thus, we wanted to show our pride in everything that is orange and blue. We used traditional Ale yeast and wheat then add a citrus note with orange peel and real blueberries. The smell of blueberry comes through in the nose and adds a bit of tartness, while the beer finishes nicely with a hint of orange peel. The perfect thirst-quencher during those warm weather days or it can be enjoyed any time of year.
HALE TO THE CHIEF
American IPA 7% ABV, 70 IBUs
This is our flagship beer and our pride and joy. Named for the famed Iliniwek Indians that were the original inhabitants to this region of North America. When the French encountered these natives in the 1600s, they discovered a very populous and powerful nation that inhabited much of the Mississippi River valley. The French called this area the "Illinois Country". While the Iliniwek referred to themselves as Inoca, the French called them "ilinwe" or the plural version, "iliniwek", which is a miss-translation of the word "irenweewa", which means "he speaks the ordinary way" referring to the widely spoken Illinois Confederation language.
Many French fur traders and missionaries praised the Iliniwek's fine appearance. Known for their short hair on top that stood straight up with long hair on the sides and in the back that often went down to their shoulders. The Iliniwek also covered themselves in brownish colored tattoos of various geometric shapes and painted their faces and bodies with red and black paint made from minerals. As an ode to one of their most abundant crops, Hale to the Chief is brewed with portions of corn instead of just barley. Corn is clean, yet sweet. This IPA focuses on a nice hop and malt balance. This beer has all of the bursting flavor and aroma that is expected from an American hopped IPA.
THAT'S S'MORE LIKE IT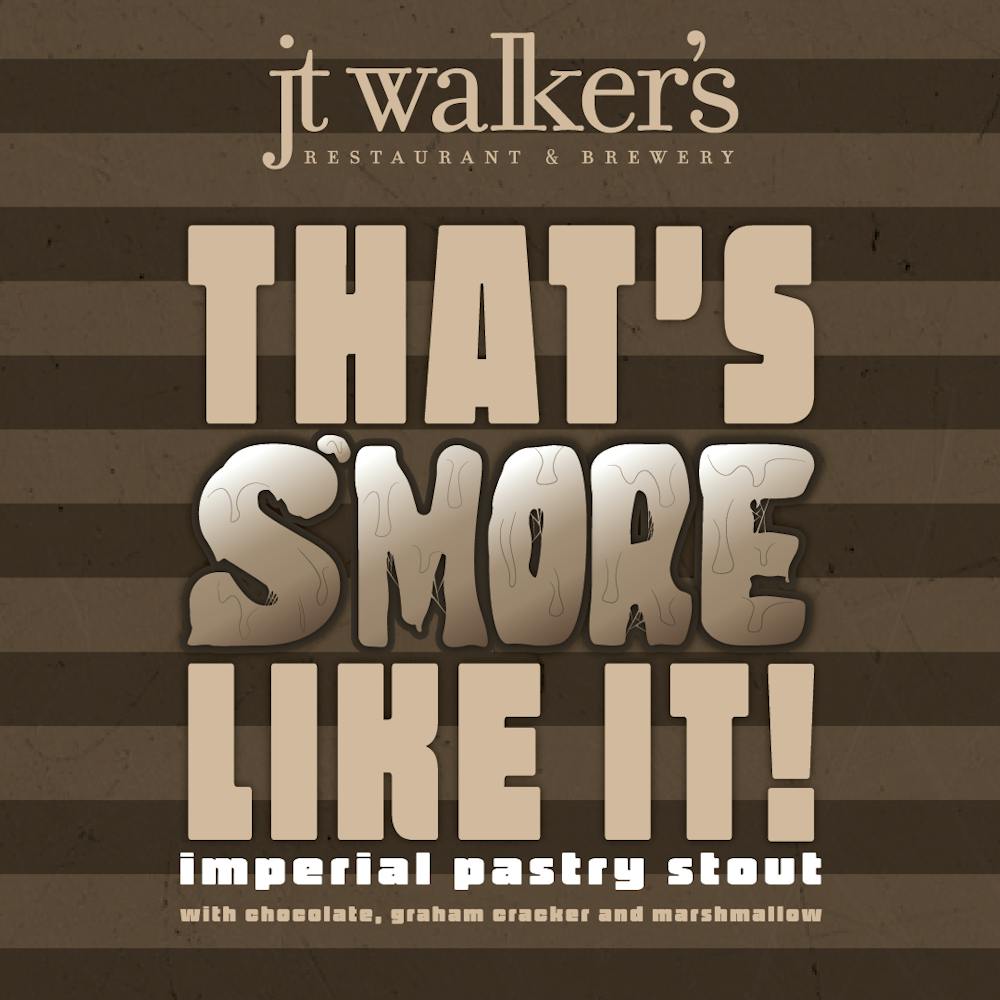 Imperial Pastry Stout 9.3% ABV, 53 IBUs
We teamed up with Champaign-Urbana Craft Beer Lovers to create this imperial pastry stout with graham cracker, chocolate and marshmallow to create a sweet yet bold flavor that balances out with a robust finish.
OKTOBERFEST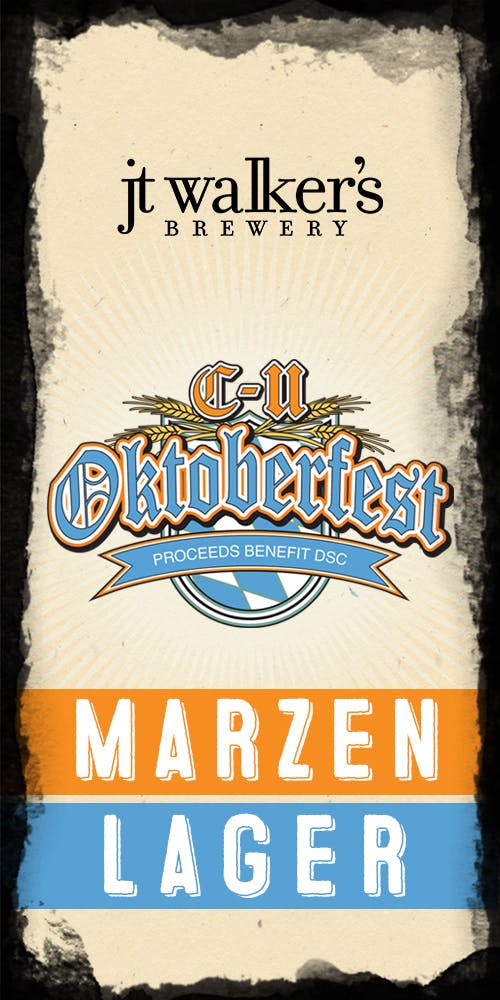 C-U Oktoberfest – Marzen 6% ABV, 20 IBUs
A special release for the C-U Oktoberfest festival that takes place every October in downtown Champaign. The proceeds from the event go to support the Development Services Center. Released in September, our version is a malty, yet crisp lager with a solid toast and caramel background.
JOHN GOW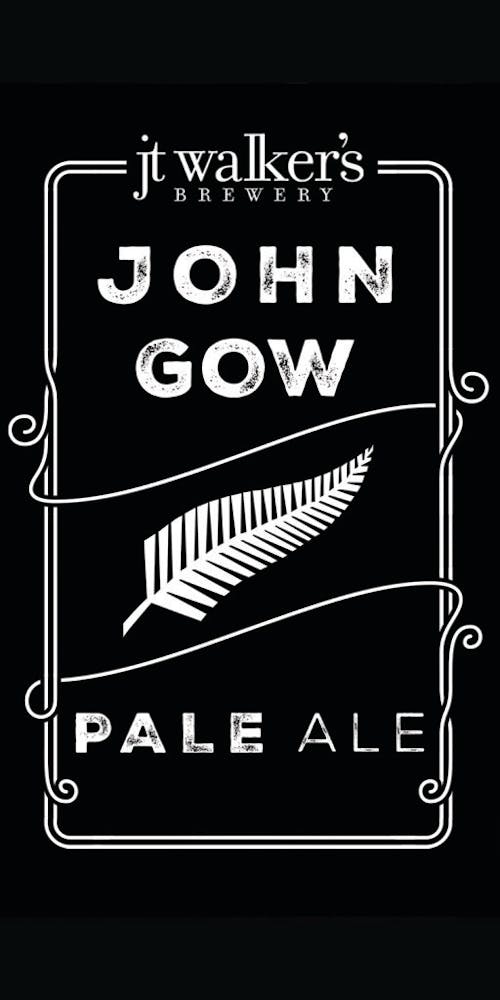 Pale Ale 5% ABV, 30 IBUs
This beer is brewed with Nelson Sauvin hops for a true feel of New Zealand. Aged in oak barrels, this beer has a unique taste with a nice citrus and grapefruit aroma. This beer is named after head brewer Aaron Young's friend John Gow, a native of New Zealand. He is a big fan of the All Blacks, the national rugby team. Kia Ora!
\
LIVE LIKE JAY
American Amber Lager 5% ABV, 15 IBUs
At JT Walker's Brewery, we lost our dear friend, Jay Caviness, who passed away suddenly and unexpectedly. Jay, with his big red beard and his penchant for fun, was a big person with a big personality. He brought people together like no one else. His stories will live on through all of us that knew him. "Live Like Jay" was brewed in his honor. An American Amber Lager, extremely drinkable with slight citrus tones. It's a little taste of 'Merica just the way Jay would have wanted it. A portion of proceeds will go to the Jay Caviness Foundation to help fund programs in Jay's name. Live Like Jay will be released at Sammers II in Gibson City this Friday, with the official release at our brewery next Wednesday. Live Like Jay artwork by Charlie Hoselton Jr.
KEY LIME PIE GOSE
Gose 4% ABV, 10 IBUs
An off the wall gose - we brewed this sour ale with real key lime juice, graham crackers, marshmallows, and salt to bring you sweet, tart, and light all in one glass.
ORSATTI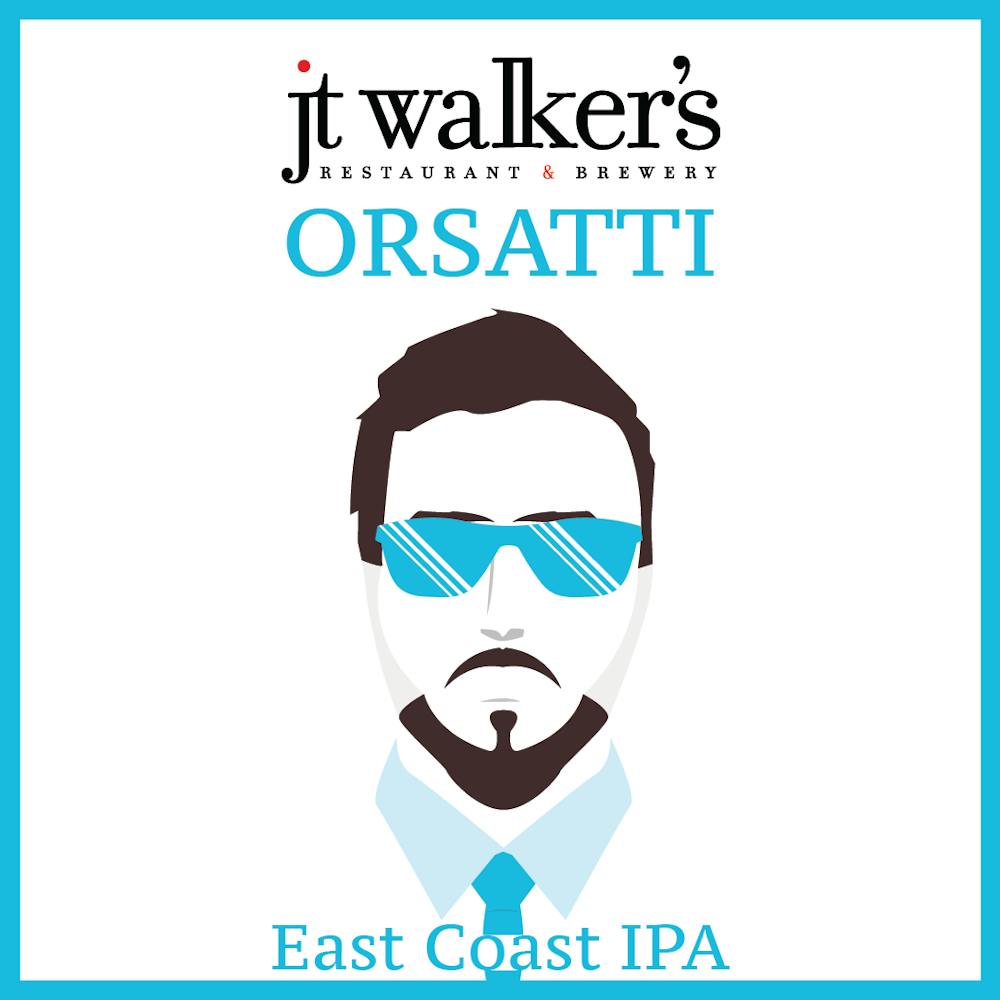 East Coast IPA 6% ABV, 55 IBUs
Owner Justin Taylor used to live on the East Coast, where he met Brandan Orsatti, a hard-nosed kid from Springfield Massachusetts. That young punk grew into a successful businessman in the advertising world in New York City. This East Coast IPA is named for him. It is a little hazy with that IPA punch like the young kids like, but it has flavors of citrus, tropical fruits and berries for the refined New York palate. Brewed with Mosaic, Falconer's Flight and Bravo hops, this beer will make any businessman throw on some shades, roll up his sleeves and loosen his tie and call it a day.
BREWER IN THE AMBULANCE VOL. 2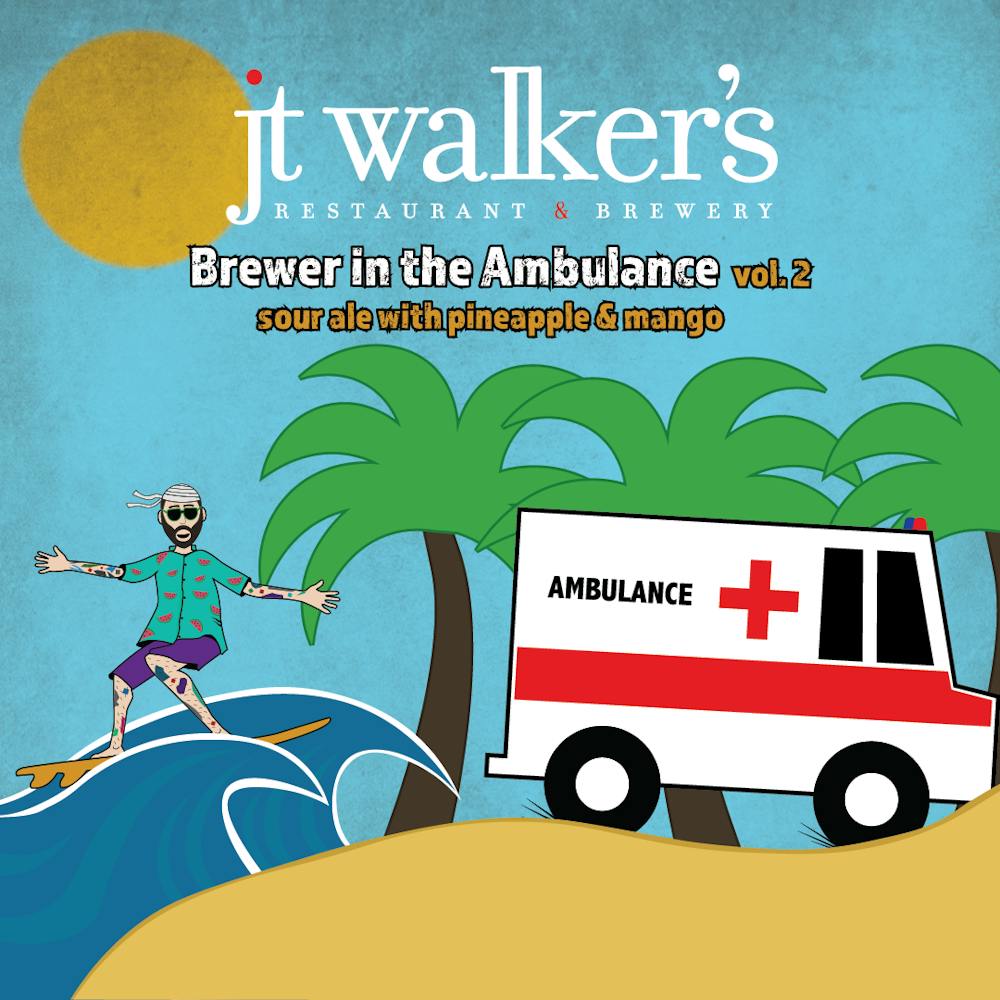 Pineapple Mango Sour 6% ABV, 0 IBUs
Doug is back and this time he's surfing the waves. In the full Summer spirit, we brewed up a second batch of our Brewer in the Ambulance, and replaced the blackberries and raspberries with mango and pineapple. A subtle tartness accompanies this radical fruit ale that'll have you hanging ten.